Magician for Children and Families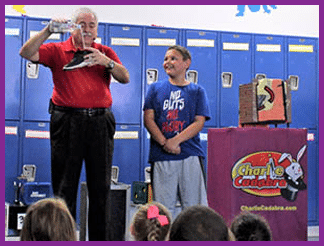 Charlie Cadabra provides the best magic show in the area. Charlie can help make your event fun, special and memorable.
Imagine having a stress-free event knowing you hired the best magician based on Charlie's experience with entertaining audiences.
For over 30 years, Charlie has performed magic shows throughout the Greater Cincinnati Area. Including Mason, West Chester, Hamilton, Middletown, Loveland, Milford, Harrison, Florence, Northern Kentucky and more.
Best Children's Magician Award by Cincinnati Parents Magazine!
Also, Best Party Magician by Cincinnati & NKY Family Magazine Readers!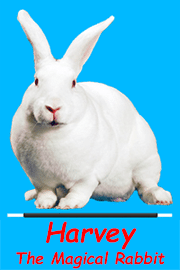 The Best Magician awards Charlie has received are for a unique blend of original magic routines.
Charlie's routines are age-appropriate, using only clean humor, that engages the audience.
The magic show has tons of audience participation, goofy dress-ups, and silly fun. And, Charlie does NOT embarrass or make fun of his audience helpers.
Finally, the shows use, and the magical production of a live rabbit, Harvey, at the end.
So, you are guaranteed a tried-and-tested magic show that your guests will love. Why? Because, Charlie understands what children think is funny, how to engage them in the show, and keep their attention.
"Reasonably priced, highly interactive, lots going on – no slow parts, new tricks I haven't seen – none of the old stale tricks that show up in lots of magic shows. You were prompt, organized and professional. Thank you!" – Joan Johnsen
Fun Magician for Children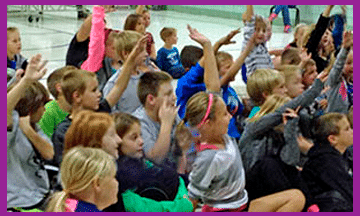 Many magicians have trouble entertaining and controlling audiences of mostly children. Why? They treat the children as if they are miniature adults. Too many magicians use material that is not age-appropriate, doesn't engage the children, or has an "I fooled you" attitude. Hence, these end up not keeping the children's interest during the magic show.
Charlie understands what kids think is funny. How? Because, he has performed thousands of magic shows for children, families, and his own grandchildren.
So, Charlie has experience knowing what makes children laugh, what keeps them interested and involved throughout the magic show.
"I thought you did a very nice job. As a parent who has hired you twice, the thing that stands out is that you're very professional and kind. You really seem to enjoy what you do. Your show is constantly moving to keep the children's interest/attention. I love that you include every guest and include them into your various tricks. Music, sound effects, and microphone are all positive additions. Thank you Very, Very much!" – Jenny Rohlfer
What's Included in Charlie's Shows?
Harvey, the Magical Rabbit, appears! And, Harvey stays around after the show for everyone to pet.
Also, lots of audience helpers to ensure that everyone is engaged throughout the show.
Age-appropriate comedy and magic designed for the audience's primary age group. Unlike other magicians who only have one show for all ages, the magic shows are different based on the age range of the audience.
Incredible magical feats! With magic tricks that has everyone asking: "How did he do that?"
A hilarious and magical storytelling routine.
Plus, a funny puppet routine for younger audiences. Sherlock Bones perform a magic trick.
Children love to dress up. So, the shows include goofy costumes and funny hats worn by the helpers.
"The children were totally immersed for 45 minutes! It was one of the easiest parties I've had. All I did was send out the invitations and provide the cake and ice cream. I didn't have to keep track of kids, tokens and pizza!" – Sabrina Hall
What's NOT in Charlie's Magic Shows?
Most importantly, Charlie also knows what to avoid and what NOT to include in Charlie's shows.
Based on experience, here is a list of items that are signs of an inexperienced magician. And so, they end up performing a show that does NOT entertain and delight the children.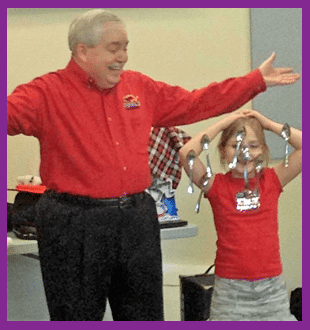 No playing card tricks in the children's magic show
No fire or flames, ever!
Snakes, rats or scary animals are not used
No "scare" techniques or "danger" tricks" are included
No sharp objects, like swords or knives
Toy weapons are not in the magic shows
No chemicals
No loud music booming
"Charlie did an AWESOME job with Miranda's show. Top Notch. She will never forget it, and her friends are still talking about it! Thanks much for creating a very memorable day for my little princess." – Glenn Algie
Entertainer Comparison Questions
Not all magic shows are the same! And you probably only book a magic show once a year. So, to ensure you get the best possible magician, use this FREE Magician Comparison Worksheet. Most of all, these 12 questions can guide you in selecting a fun magic show that will meet your needs.
Cincinnati's FUN-tastic Magician
Charlie Cadabra is available to perform at your event throughout the Greater Cincinnati Area – including Mason, West Chester, Hamilton, Middletown, Harrison, Florence, Northern Kentucky and more.
Available Magic Shows:
Birthdays only come once a year and you want your child's special day to be memorable. So, your child is the star in Charlie Cadabra's Birthday Magic Show! In addition, the birthday child helps to magically produce Harvey, a live rabbit. And, everyone gets to pet Harvey after the show.
Charlie creates a new fun magic show every year for Early Learning Centers, Daycare Centers, Preschools, and Summer Camps. The Magic Show for Children includes age-appropriate routines, silly fun, and tons of audience participation. And, the magician, Charlie Cadabra has different magic shows based on the age range of the children (pre-school age, school age and both together).
As well as, Charlie's silly fun, non-scary Halloween Magic Show. The show is perfect for daycares, family events, block parties, and church events. So, only non-scary, silly, versions of Ghosts, Witches, Pumpkins, Frankenstein, Zombies, and Dracula are included in the Halloween magic show.
Finally, a Christmas Magic Show with themes to celebrate the holidays. Themes include Santa, Reindeer, Snowpeople, Candy Canes and more!
Reviews of Cincinnati Magician, Charlie Cadabra
Charlie Cadabra's Awards for Fun Magic Shows for Best Children's Entertainer by Cincinnati Parents Magazine for 9 years in a row. And, the Best Party Entertainer award from Cincinnati Family Magazine for the last 10 years. Plus, here is actual client feedback received from Charlie Cadabra's clients:
"You had complete control over the whole party. The children were mesmerized by your show. It was a very interactive show. You involved many of the children. The only thing I had to provide was the cake! You did a fantastic job." – Sue Glynn

---

"It's not like you need anymore raving comments on your site, but the kids were absolutely thrilled before, during, and especially after the show! Trevor says it was the best party he's ever had…or been to! Thanks so much!" – Pam Owens

---

Additional Birthday Magic Show Feedback

"I highly recommend having Charlie Cadabra perform at your next Birthday party or party Celebration. Charlie interacted with the kids, who made them feel part of the show and kept them entertained the entire time. Not only were the kids entertained but so were the adults. Truly a fun Experience! Many parents commented on how much they enjoyed the show. One of my daughter's friends who attended the birthday party summed it up by saying 'this was the most awesome birthday party ever!' Thank you so much for making my daughters 5th birthday so memorable." – Cindy Maki

---

"Great with children. Tricks were adorable and funny. I enjoyed it as an adult as much as the children did!" – Meghan Reimels

---

More Birthday Magic Show Feedback

"The show was so exciting for the kids and even the adults. It was so easy, no stress or clean up, lots of kids got a chance to be up on stage as a helper. And the bunny is to die for, soooo cute." – Amanda Borger

---

"The children did not take their eyes off of Charlie. He totally pulled them in and made them feel his magic wasn't possible without them. The party was crazy until Charlie came. He magically brought order to the chaos!! The show made the parents glad they were invited too! A lot of times birthdays are things we have to do. This one was one we wanted to do. The magic show joined the entire group of parts gets together – not just the children. All the children that attended my daughter's birthday party have requested that Charlie comes to their parties as well. Best birthday party we have had or attended!" – Shelley Johnson

---

Additional Reviews

"The whole experience was superb from start to finish. Excellent communication and top-notch professionalism from my initial contact right up to the day of the show. We had children from 2-9 years old, and every one of them was captivated the entire 45-minutes of the show!" – Jess Williams

---

"They laughed non-stop and couldn't take their eyes off him. The magic "made" the whole event! Charlie was great, instant rapport with children of all ages and adults. He was on time, professional, yet personal. We will have him back again!" – Terri Randall

---

"We have had Charlie Cadabra do magic shows at school, for birthday parties and Halloween parties. Every show is unique and entertaining for kids and adults. We love Charlie Cadabra's show and will hire him many more times as our children continue to grow! The magic word is Charlie Cadabra for sure!" – Taunja Kruckeberg

---

"As one parent put it 'I never knew kids could laugh and squeal so loudly!' " – Susan Afanuh