New Magic Show Each Year!
Your have limited entertainment dollars and want quality in-house field trips for the children. Therefore, you need an experienced magician with a Magic Show for Childcare Centers geared to the children's ages and enjoyed by all.
Because so many centers have me back every year, they want a new Magic Show their Childcare Center. I create a new program every winter for the upcoming year.
New routines, new props, new silly fun, new puppet routine for younger children and more. But the same live rabbit, Harvey!
"The children talked about Charlie Cadabra for days after the magic show! We are looking forward to next summer with Charlie!" – ABC Childcare and Preschool

My Magic Show for Childcare Centers includes different magic tricks and routines based on the age-range of the children attending. Both Preschool or School Age. And, audiences with both age-ranges combined.
"Charlie related well to students and had tricks that were age appropriate. He held their attention and had a great show! Thanks!" – Small World Children's Center
Most magicians have only one show and do the same show for all ages! But there are vast differences in what a preschool child understands, enjoys and appreciates than school age children.
Discover the Secret for A
Fun In-House Field Trip
The new 2019 Magic Show includes age-appropriate routines and astonishing magic tricks! As well as a live rabbit, tons of audience participation and helpers, goofy costumes, silly hats, music. And, a fun puppet routine for younger children.
The magic shows are 45-minutes long.
Harvey, my live rabbit, appears, at the end of the show.
Petting the rabbit as the children exit takes another 10-15 minutes.
I bring everything needed for the show, including tables and a sound system.
"The children were enchanted. And, several teachers remarked that you have the enviable skill of being able to interact with a large group of children without letting them get out of control." – The Goddard School
---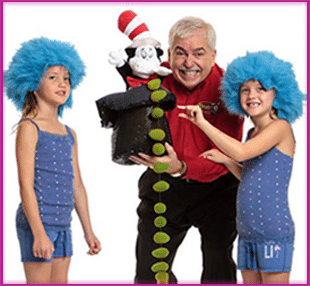 Celebrating Everything Seussical!

Celebrate Dr. Seuss, his many wonderful books, zany creatures, moral lessons and silly fun.
Also, over a dozen of his best-selling books are featured in this Magic Show for Childcare Centers.
As a result, Abra-CAT-abra is also a fun way to teach good character traits while capturing the audience in the weird and wacky world of Dr. Seuss.
Abra-CAT-Abra is for ages 3-9
The Magic Show includes some Seussical rhyming routines, with lots of funny costumes and hats. As well as, Dr. Seuss' many zany, memorable characters. Plus incredible magic and laughter throughout the show!
"Everyone is looking for inexpensive, great programs. This is a great experience for the children that our program can afford." – DeLanna Oeder
What's Included in a Magic Show for Children?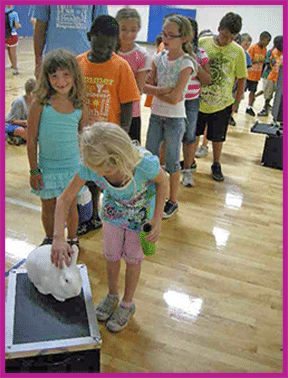 Harvey, the Magical Rabbit, appears! And, Harvey stays around after the show for everyone to pet.
Also, lots of audience helpers to ensure that everyone is engaged throughout the show.
Age-appropriate comedy and magic designed for the audience's primary age group. Unlike other magicians who only have one show for all ages, my fun magic show is different based on the age range of the audience.
Incredible magical feats! With magic tricks that has everyone asking: "How did he do that?"
A hilarious and magical storytelling routine.
Plus, a funny puppet routine for younger audiences. Sherlock Bones perform a magic trick.
Children love to dress up. So, the show includes goofy costumes and funny hats worn by the helpers.
"Great, high-energy show! Our students had a ton of fun! You kept us all, students and teachers alike, laughing throughout the performance!" – Sue Glanton
What's NOT in Charlie's Magic Show for Childcare Centers?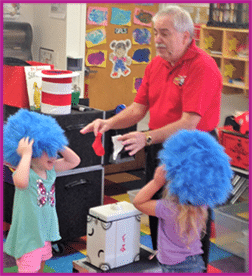 Most importantly, I also know what to avoid and what NOT to include in my Magic Show for Children.
Based on experience, here is a list of items that are signs of an inexperienced magician that are not going to create a fun magic show for childcare centers.
No playing card tricks in the Magic Show
No fire or flames, ever!
Snakes, rats or scary animals are not used
No "scare" techniques or "danger" tricks" are included
No sharp objects, like swords or knives
Toy weapons are not in my fun magic shows
No chemicals
No loud music booming
"The magic tricks are perfect for each age group – not over their heads, but we also love the little jokes that only the teachers understand." – Jen Fowler
Magic Show Information
You probably only coordinate special events once or twice a year. So, to ensure you get the best possible Magic Show, use the Magician Comparison Worksheet. Most of all, these 12 questions can guide you in selecting a magic show that fits your needs.
Charlie Cadabra is available to perform at your event throughout the Greater Cincinnati Area – including Mason, West Chester, Hamilton, Middletown, Harrison, Florence, Northern Kentucky and more.
Because you may have some questions about booking a magician, these Magic Show FAQs will help answer them.
Since birthdays only come once a year and you want your child's special day to be memorable. So, your child is the star in Charlie Cadabra's Birthday Magic Show! In addition, the birthday child helps to magically produce Harvey, a live rabbit. And, everyone gets to pet Harvey after the show.
The Magic Show for Children includes age-appropriate routines, silly fun, and tons of audience participation. And, the magician, Charlie Cadabra has different magic shows based on the age range of the children (pre-school age, school age and both together).
As well as, Charlie's silly fun, non-scary Halloween Magic Show. The show is perfect for daycares, family events, block parties, and church events. All of the routines are non-scary and silly fun for all ages.
Finally, a Christmas Magic Show with themes to celebrate the holidays. Themes include Santa, Reindeer, Snowpeople, Candy Canes and more!
Magic Show for Childcare Centers Reviews
Charlie Cadabra's awarded the Best Children's Entertainer by Cincinnati Parents Magazine for 9 years in a row. And, the Best Party Entertainer award from Cincinnati Family Magazine for the last 10 years. Plus, here is actual client feedback received from Charlie Cadabra's clients:
"Your shows are always entertaining for children and adults of all ages. No two magic shows are alike which allow for successful return visits. We would highly recommend you!" – Samantha Feyka

---

"Charlie provides a wonderful magic show for the money. The children have the best time possible." – Nancy Burwinkel

---

"Uses lots of props, music was a nice touch. Plus, I liked when you included the children in your act. And the children loved the silly stuff." – Marcy Stinson

---

"How much fun the children had during the program. Children enjoyed being part of the magic show. They are still talking about it days after. Such an awesome and entertaining program." – Bonnie Baldwin

---

"Great, high-energy show! And, our students had a ton of fun! You kept us all, students and teachers alike, laughing throughout the performance!" – Sue Glanton

---

Children Love Charlie Cadabra!

"Thank you, Charlie Cadabra for making the children laugh! Even the "hardest to please" older campers got a kick out of the show. So, this is why we book you every year!" – Amy Kayea

---

"The magic tricks are perfect for each age group – not over their heads. And, we also love the little jokes that only the teachers understand." – Jen Fowler

---

"Related well to students and had tricks that were age appropriate. You held their attention and had a great show! Thanks!" – Melissa Sparks

---

"The magic show was great, and the children loved it. He kept their attention the whole time. Lots of laughter!" – Kristen Siciliano