Halloween Magic Show for Kids!
Finding a Halloween Magic Show that is "just right" for children and families is hard! You want your Halloween party to be unique, fun, safe and memorable. Plus, it must be non-scary and safe for the younger children as well as entertaining and fun for the older children.
"Can we book you now for next Halloween? Charlie was the highlight of the Halloween party!" – Amie Koporc
Harvey, my live rabbit, magically appears at the end of the show. Everyone gets to pet Harvey after the show.
Halloween Magic Show Fun!
Charlie's Halloween Magic Show blends incredible magic, age-appropriate comedy, and tons of audience helpers.
As well as, goofy costumes, silly hats, and a magical puppet routine.
Which creates a unique, one-of-a-kind, Halloween Magic Show for children and families.
This Show Is More Goofy Than Spooky!
All of the routines, magic tricks and props have a non-scary Halloween theme. Including Pumpkins, Spiders, Ghosts, Dracula, Wizards, Witches, Zombies, Frankenstein, and Haunted Houses.
"A great show for kids of all ages. It really holds their attention and even has the parents laughing!" – Ft. Mitchell Country Club
Need a Halloween Safety program? I can include safety messages into the show if you would prefer. Halloween safety messages include staying together with parents and friends, carrying a flashlight, checking candy and food before eating it and more.
"WOW" Moments in the Halloween Magic Show:
Dead Fred tries, unsuccessfully, to scare the audience. In the end, he loses his head and floats around!
Chuckles are plentiful when the Green Slime poured over a helper's head magically disappears. More laughs follow when the assistant ends up magically drinking some Green Slime through the top of his head!
The children's jaws drop in wonder and excitement as a silly drawing of a Zombie comes to life!
Laugh hysterically as a Witch's bottled brew magically multiplies over and over again.
Pandemonium ensues as the mad scientist attempts to clean an audience helper's sneaker with tragic results – until the audience helps restore the shoe in a very magical way.
"Charlie Cadabra is great for all ages! Preschoolers to grade school children love the show! Our adults enjoy it also! We have Charlie every summer for our campers and love the Halloween show we added to our activities this year!"– Five Seasons Family Sports Club
Easy to Book
With a 100% Satisfaction Guarantee!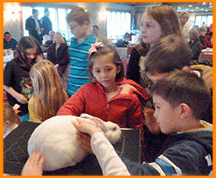 The audience eagerly becomes part of the show, and no one is embarrassed.
Clean, tasteful comedy shows for all ages. Laughter fills the room, and the praise goes to you for a job well done!
There is no work for you to do and nothing for you to worry about for the show. You just provide the place and audience.
The Halloween Magic Show works for both large or small groups.
"Kids enjoyed the show. There was lots of laughter and "Screaming" due to "Scary" Halloween tricks. Stress-free because Charlie did the setup and clean up!" – Michelle Seiter
Entertainer Comparison Guide
Not all Halloween Magic Shows are the same! You only book a magician for a Halloween once a year. So, to ensure you get the best possible Halloween Magic Show, use the Magician Comparison Worksheet. Most of all, these 12 questions can guide you in selecting a magician that fits your needs.
"Charlie Cadabra included almost all of the children. He kept their interest with a creative Halloween program." – Kathy Godar
Other Magic Show Information
Charlie Cadabra is available to perform at your event throughout the Greater Cincinnati Area – including Mason, West Chester, Hamilton, Middletown, Harrison, Florence, Northern Kentucky and more.
Because you may have some questions about booking a Halloween magic show, these Magic Show FAQs will help answer them.
Since birthdays only come once a year and you want your child's special day to be memorable. So, your child is the star in Charlie Cadabra's Birthday Magic Show! In addition, the birthday child helps to magically produce Harvey, a live rabbit. And, everyone gets to pet Harvey after the show.
Charlie creates a new fun magic show every year for Early Learning Centers, Daycare Centers, Preschools, and Summer Camps. The Magic Show for Children includes age-appropriate routines, silly fun, and tons of audience participation. And, the magician, Charlie Cadabra has different magic shows based on the age range of the children (pre-school age, school age and both together).
Finally, a Christmas Magic Show with themes to celebrate the holidays. Themes include Santa, Reindeer, Snowpeople, Candy Canes and more!
Halloween Magic Show Reviews
Charlie Cadabra has received the award for Best Children's Entertainer by Cincinnati Parents Magazine for 9 years in a row. And, the Best Party Entertainer award from Cincinnati Family Magazine for the last 10 years. Plus, here is actual client feedback received from Charlie Cadabra's clients:
"We have had Charlie Cadabra do magic shows at school, for birthday parties and Halloween parties. And, every show is unique and entertaining for kids and adults. We love Charlie Cadabra's show and will hire him many more times as our children continue to grow! So, the magic word is Charlie Cadabra for sure!" – Taunja Kruckeberg

---

"The Halloween Magic Show was fun! The children really enjoyed themselves. He came early to set up and didn't mind staying around to let the kids ask questions and pet the bunny. Charlie was very professional and patient. So, I will definitely hire Charlie Cadabra again." – Desree Driever

---

"The Halloween magic show surpassed my expectations. Everyone, including the adults, had a wonderful time. I had lots of compliments." – Renae Newkirk

---

"Charlie Cadabra definitely has a family-friendly show. He is professional, punctual, and has a wonderful personality. You can't go wrong by having him entertain at your Halloween event." – Patrice Barnes

---

Additional Halloween Magic Show Feedback:

"Charlie Cadabra IS Cincinnati's Finest FAMILY Magician. He entertained everyone from toddler to senior. And, he kept the audience's attention by including many children in the act. Also, everyone I spoke with raved about the show. You won't be disappointed." – Renee Bill

---

"Our program this year was the most successful ever. You and your magic show were the highlight of our Halloween event." – Casey Wilhelm

---

"You were amazing! So, thank you for making both of us look good." – Robbin Madden

---

"You were great, and you helped them laugh. And, a breath of FRESH AIR!" – Reggie Murray