Amazing Magical Feats: The Christmas Magic Show that has everyone asking: How did he do that?"
Harvey, a Live Rabbit Appears: The helper is thrilled and amazed! Plus, Harvey stays around after the show for everyone to pet.
Clean Comedy: using age-appropriate comedy that creates ripples of laughter.
Funny Puppetry: "Sherlock Bones" will do his own silly magic trick.
Goofy Costumes and Funny Hats: Children love to "dress up".
Audience Participation: The show includes over a dozen children as helpers.
Your Guests Are the STARS of the Christmas Magic Show!
The Christmas Magic Show blends comedy, magic, a puppet, audience helpers, dress-ups and music into a unique, one-of-a-kind, Holiday family program.
And, all of the routines have Christmas and winter themes with snowmen, snow, candy canes, Rudolph, Christmas trees, Santa Claus and much more.
"Charlie Cadabra was a fabulous addition to our family holiday party. He was so great with all ages of children and really kept things moving. Communication before the event was smooth and efficient, and Charlie arrived promptly. And, he gave more than expected. The show was extremely enjoyable, and everyone in the crowd wore smiles the entire time." – Carol Stuewing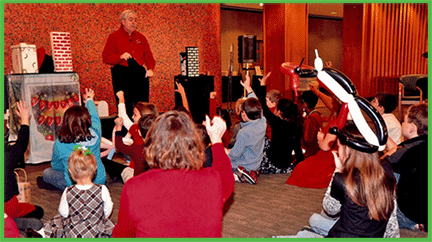 "WOW" Moments in the Christmas Magic Show:
Watch in amazement as snow is magically created and turned into snowballs and a snow cone!
Smiles are plentiful when Mrs. Claus asks Santa to wear something different on his annual Christmas Eve run.
The children's jaws drop in wonder and excitement as ornaments and a Christmas Tree are magically created from nowhere.
And laugh hysterically as Sherlock Bones, the World's Smartest Dog sniffs out and resolves a Christmas Magic Show mystery.
Many photo ops when 7 helpers dress as elves to help Santa and his Reindeer complete their mission.
Harvey, a live rabbit, magically appears at the end of the show. Everyone gets to pet Harvey after the Christmas Magic Show.
"How much fun the children had during the program. Children enjoyed being part of the show. They are still talking about it days after. Such an awesome and entertaining program." – Bonnie Baldwin
Easy to Book!
With a 100% Satisfaction Guarantee
The Christmas Magic Show is 45-minutes long.
Audience helpers have fun and no one is embarrassed.
Lots of amazing magic, audience participation, holiday dress ups, hats and silly fun throughout the show.
Clean, tasteful comedy shows for all ages. Laughter fills the room and the praise goes to you for a job well done!
There is no work for you to do and nothing for you to worry about. You just provide the place and audience.
I bring my own tables and sound system. Also, there is no special staging needed.
You just pay me the day of the show. So, no deposit or advance payment requirements.
Finally, accepted forms of payment are cash, check and credit/debit cards.
"The children and parents alike were delighted with your magic show. And, we have some great snapshots to remember this holiday."– Gayle & Mike Krummen

Entertainer Comparison Guide
Not all magic shows are the same! And you probably only coordinate Christmas events once a year. So, to ensure you get the best possible entertainer, use this FREE Magic Show Comparison Worksheet.
Most of all, these 12 questions can guide you in selecting a Christmas Magic Show that will meet your needs.
"Thank you, Charlie Cadabra for making the children laugh! Even the "hardest to please" older children got a kick out of the show. This is why we book you every year!" – Amy Kayea
Other Magic Show Information
Charlie Cadabra is available to perform at your event throughout the Greater Cincinnati Area – including Mason, West Chester, Hamilton, Middletown, Harrison, Florence, Northern Kentucky and more.
Because you may have some questions about booking a Christmas magic show, these Magic Show FAQs will help answer them.
Birthdays only come once a year and you want your child's special day to be memorable. So, your child is the star in Charlie Cadabra's Birthday Magic Show! In addition, the birthday child helps to magically produce Harvey, a live rabbit. And, everyone gets to pet Harvey after the show.
Charlie creates a new fun magic show every year for Early Learning Centers, Daycare Centers, Preschools, and Summer Camps. The Magic Show for Children includes age-appropriate routines, silly fun, and tons of audience participation. And, the magician, Charlie Cadabra has different magic shows based on the age range of the children (pre-school age, school age and both together).
As well as, Charlie's silly fun, non-scary Halloween Magic Show. The show is perfect for daycares, family events, block parties, and church events. So, only non-scary, silly, versions of Ghosts, Witches, Pumpkins, Frankenstein, Zombies, and Dracula are included in the Halloween magic show.
"The magic tricks are perfect for each age group – not over their heads, but we also love the little jokes that only the teachers understand." – Jen Fowler
Christmas Magic Show Applause
Charlie Cadabra's Awards for Fun Magic Shows for Best Children's Entertainer by Cincinnati Parents Magazine for 9 years in a row. And, the Best Party Entertainer award from Cincinnati Family Magazine for the last 10 years. Plus, here is actual client feedback received from Charlie Cadabra's clients:
"The audience loved it! Well worth every penny! Very interactive!" – Lindsey Hemberger

---

"Hiring Charlie Cadabra was the best decision we made. It made the whole party planning experience so simple! Knowing that entertainment was taken care of put everything at ease. The children loved the entire act and talked about it for weeks." – Eva Davis

---

"You made us all leave laughing. It was entirely different and entirely full of fun. Everyone had a great time, and we are still talking about your great act. You should hire him now!!!" – Bob Lorenz

---

"Organized. Efficient. Friendly. Fair Deal. Coordinated. Very entertaining, non-stop." – Jennifer Britton

---

"Well worth the money. The show was very age appropriate, and the adults enjoyed the show as much as the children. Long lasting memories were built for all." – Jodi Kastner

---

Additional Christmas Magic Show Feedback:

"This was a Thanksgiving celebration at our church hall. We had around 75 people there, and Charlie was great. Both the adults and children were entertained. Never a dull moment. I'm looking forward to seeing you at our next get together." – Carolyn Gabbard

---

"I think there was more enthusiasm for your presentation than any other program this year." – Ted Cwiok

---

"It was wonderful from beginning to end! I didn't have to worry about any of the setup or tear down and the props, background and entire performance were professional and top- notch! Charlie Cadabra puts on a fantastic show, and audience LOVES him!" – Abigail Woolwine